Put People Before Profits
"90 percent of investing, whether it is in nonprofit or for-profit companies, is people."
George Roberts, Philanthropist and Co-founder of KKR, the pioneer of private equity
Build Relationships First, Then Transactions
Was it really worth it? If you commit Securities Fraud you risk losing your ability to operate within the industry, financial penalties and prison. If you are a Lawyer whose conduct indicates that you are not fit to practice law, willfully disregarding the interests of a client, or engaging in fraud which impedes the administration of justice you can be disbarred. If you are an Accountant who deliberate manipulates accounting records in order to make a company's financial performance or condition seem better than it actually is, you face the possibility of sanctions, license suspensions, revocation of professional certifications and criminal prosecution. If you are a Doctor or medical professional who exploited and subjected patients to unnecessary or unsafe medical procedures or whose patient's medical records are compromised or whose legitimate insurance information is used to submit falsified claims, the punishment can include such serious consequences as fines, incarceration and even the loss of the right to practice in the medical profession. Starting to see where I am going with this?
With the recent Binary Capital Scandal, Venture capitalists began rejecting Fund Co-Founder Justin Caldbeck's behavior on Twitter. However his behaviors were not a secret and many knew of them including his business partner. Decisions based on monetary benefits and big payoffs instead of morals can lead to unethical behaviors.
As a starting point, I like Reid Hoffman's proposal for a "Decency Pledge," which many investors have signed on to. However most early stage companies lack senior HR members or legal sophistication. This is compounded by reporting structures where the Founder, Board Member, VC, Investor or an Executive is the offending party.
The VC industry has created thousands of companies and millions of employees. The collective impact of these businesses is enormous. In order to ensure diversity and inclusion we must institute a MORALS CLAUSE with Zero Tolerance. As investors we need to throw these VC and corporate offenders out of our industry and as employees of our portfolio companies. A morals clause (or morality clause or bad boy clause or bad girl clause) is a provision within instruments of a contract which curtail, or restrain, or proscribe certain behavior of individuals or party(s) to the contract.
1 In 3 Women Has Been Sexually Harassed
In 2015, Alanna Vagianos, Women's Editor for HuffPost cited a Cosmopolitan Magazine survey which found that one in three women between the ages of 18-34 had been sexually harassed at work. Cosmopolitan surveyed 2,235 full-time and part-time female employees and found that one in three women has experienced sexual harassment at work at some point their lives. The American Association of University Women defines workplace sexual harassment as any, "unwelcome sexual advances, requests for sexual favors, or other verbal or physical conduct of a sexual nature."
In 2017 it's no longer an "Open secret" that there are deeply rooted problems facing entrepreneurs and businesses. Many women, people of color, diverse sexual orientation and age experience harassment and discrimination. This is further compounded by tremendous frustrations when trying to find someone who can help, only to realize that nothing is going to change. Even worse, the potential for retaliation is ever present. The amount of stress and mental health issues attributable to hostile work situations and environments continues to rise, undermining opportunities for the most qualified people to create and succeed in business.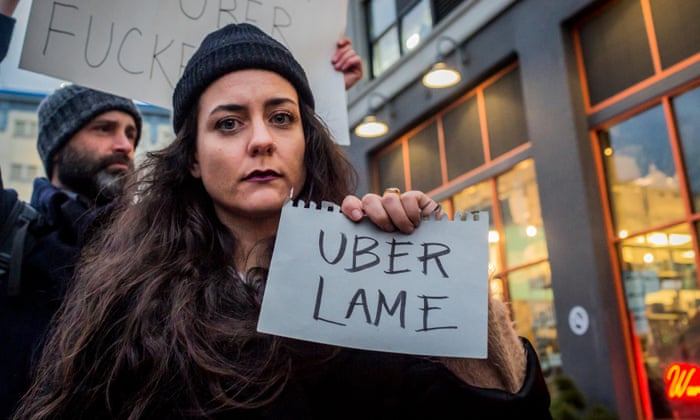 Reporting structures and Empowerment to act
Reporting Structure refers to the authority relationships in a company and who reports to whom. HR departments typically report to owners, founders, the CEO, COO or similar. Therefore by their very nature, the dynamics are set up for challenges and failure. Imagine going to the HR Department to tell them that you're being harassed by the owner, a partner, a senior executive or a board member let alone a peer. We must make it safe to be vulnerable and not put the victim on trial for their professional life.
Susan Fowler was an engineer at Uber who finally had enough. In a post written by her entitled "Reflecting On One Very, Very Strange Year At Uber" she recounts her experiences working as an engineer for the Company:
"When I joined Uber, the organization I was part of was over 25% women. By the time I was trying to transfer to another eng organization, this number had dropped down to less than 6%. Women were transferring out of the organization, and those who couldn't transfer were quitting or preparing to quit. There were two major reasons for this: there was the organizational chaos, and there was also the sexism within the organization. When I asked our director at an org all-hands about what was being done about the dwindling numbers of women in the org compared to the rest of the company, his reply was, in a nutshell, that the women of Uber just needed to step up and be better engineers." 
Simply stated, Susan and so many who find themselves in similar positions have no where to go internally so they either leave the workplace or go outside for help. They're fighting city hall, against the deep pockets of their employers with a "win at all cost" mentality. The irony is that by perpetuating hostile work environments void of diversity and inclusion we destroy value, shatter people's confidence, self esteem and lives.
With recent events, I received many comments and questions about entrepreneurship, workplace, diversity and inclusion including:
"HR is just a symptom of the broader org – values come from the leadership – usually only after lawsuits/PR disasters HR might get involved."
"I get hit on all the time – I expect it."
"I'm raising money now and if I go public, I'm afraid I could get blacklisted."
"What does your husband think of you starting a business?"
"I'm usually one of the few black people on the team."
"How can we expect VC's to police themselves when it comes to women? Most are men!"
"When was the last time a potential investor asked you or any of your male friends out for drinks and dinner?"
To those who shared their experiences, I thank you. In addition to a Morals Clause here's what we can do about it together.
Invest in Diversity Female Founders
VCs and Angel Investors, take the calls, read the plans, respond to emails, make time to meet, go to events, share experience, offer advice, make connections, lend knowledge capital, financial capital and resources. Invest in early stage companies and entrepreneurs of all genders, races, sexual orientations, ages and places to help them succeed.  Embrace and require gender equality, diversity, inclusion, and female founders in your investments. Look for operationally savvy entrepreneurs, game changers and market insiders who are the most qualified to address systemic and behavioral trend changes.
Do not invest with investors who don't have their house in order until they do and discontinue funding companies until they clean up their acts. That's Zero Tolerance!
Hold Everyone Accountable: Here's How
Use the power of the press and social media. Reach out to Sarah Lacy, Geri Stengel, Lisa Bloom, Gloria Allred, me and many others. Twitter and LinkedIn are great to find support. The long journey towards true diversity, inclusion, impact and equality (gender, ethnicity, race, nationality, age, sexuality) has begun and many are getting on-board. There are many good executives, co-workers, VCs investors and boards who have had enough. But the only way to keep building on the momentum is to keep calling it out.
Establish A Shared Values Contract
In an article entitled "190 Brilliant Examples of Company Values." it states that every successful company has a set of company values to assist their employees in achieving their goals as well as the company's. Shared values are the foundation of a Company's purpose for existing. They empower all employees to uphold them with a common standard and social pact. Employee handbooks are no longer cutting it. The Shared Values contracts must be signed off by all internal employees, all investors, advisers, contractors, vendors, board members and anyone who is engaged to do work for the Company.
Stay Informed And Remain Vigilant!
I'm not a lawyer so I found one named Michael Arnold. He is an associate in  Mintz Levin's New York City office, practicing in the employment, labor and benefits section. He has a wide range of experience representing clients in connection with a variety of complex employment litigation matters, including pre-trial, trial and appellate work, administrative proceedings, arbitrations and mediations relating to wage and hour, discrimination, non-compete, trade secret, general contract disputes and other employee-related disputes. He's written an article entitled, "How to Prevent Discrimination in the Workplace" that covers the following steps in detail:
Step 1: Become Familiar With All Applicable Anti-discrimination Laws
Step 2: Develop and Implement a Comprehensive Anti-discrimination Policy
Step 3: Develop and Institute Mandatory Anti-discrimination Training Programs
Step 4: Be Prepared to Investigate Complaints of Discrimination or Harassment
Step 5: Analyze Business Decisions for Unintentional Discrimination
There's an entrepreneur with a game changing and disruptive business called equality. It's the investment we should all be making.
Respectfully,
Managing Director of LDR Ventures
Here are links to additional resources regarding discrimination:
Employee Management > EEO – Discrimination
Employee Management > EEO – Harassment
Employee Management > EEO – Retaliation
Discrimination – Supervisor Briefing
Bullying and Harassment – Supervisor Briefing
How to Handle a Complaint of Discrimination
How to Handle a Complaint of Race Discrimination
How to Handle a Complaint of Religious Discrimination
How to Handle a Complaint of Sexual Orientation Discrimination
How to Handle Sex Discrimination in the Workplace
How to Prevent Race Discrimination
How to Prevent Pregnancy Discrimination
How to Prevent Religious Discrimination
How to Prevent Age Discrimination